Products for Water Treatment
Though it does not remove radon gas from water, a Reverse Osmosis System (RO) can be an effective method to treat for Gross Alpha and Gross Beta contaminants that represent ingestion hazards to the stomach and kidneys. Neither Bubble Diffused Aeration (BDA) nor Granular Activated Carbon (GAC) remove contaminants like Radium-226, Radium-228, and Uranium (Gross Alpha Contaminants) from groundwater. However, these are effectively removed by either ion exchange (IX), or by Reverse Osmosis (RO). Reverse Osmosis (RO) is the gold standard for purified drinking water, and is the cheapest and best method to ensure healthy and safe drinking water quality. We also offer ion exchange (IX) for point of entry when necessary, but try to avoid when possible to simplify the process and reduce the overall cost.
Drinking Water Purification (RO)
Drinking Water Purification (RO)
Our Reverse Osmosis (RO) Purification Systems feature an industry leading 25-year Limited MFG Warranty, and the filter cartridges are universal 10" equivalents so you will always be able to source them. The systems are WQA Gold Seal Certified, NSF Certified, and 100% Made in the USA!

Our H6500 and H6000 RO Systems Feature Open Architecture and Top Industry Certifications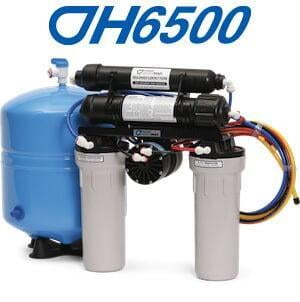 H6500
The 5-stage H6500 is the most efficient RO system on the market. It features a proprietary permeate pump that increases water efficiency by over 300%, wasting far less water to drain. This can be beneficial for connecting to septic systems. The H6500 also allows water production at lower pressures, increases the dispensing pressure to within five (5) pounds of line pressure, and makes water three (3) times faster than our competitors.